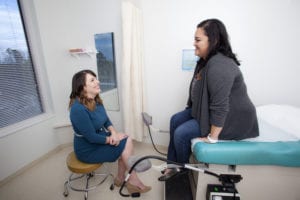 Thank you for visiting Raleigh OB/GYN Centre. Raleigh OB/GYN Centre is proud to offer gynecological care to women of all ages. Our practice believes that routine gynecological care is key to living a happy, healthy life. For this reason, we begin seeing patients in their adolescence and continue this relationship throughout their lifetime. Offering obstetrics care as well, we truly feel we are able to provide our patients with the high level of personalized gynecological care they deserve, no matter their stage of life.
Gynecological Services Provided
As a courtesy to our patients, Raleigh OB/GYN Centre offers the following gynecological services:
General & Pediatric Gynecology

Infertility

Bleeding Problems

Pelvic Ultrasonography

Laparoscopy & Robotic Surgery
Gynecological Conditions Treated
When you become a patient at our office, we strive for you to remain
a patient throughout your lifetime. Many patients come to us to diagnose and treat certain conditions that may arise throughout their life. Conditions such as these include the following:
Abnormal Pap Smears

Abnormal, Heavy, or Painful Menstruation or Bleeding

Bacterial Vaginitis Infections

Breast Disorders

Contraception & Contraception Counseling

Hormone Replacement Therapy

Ovarian Mass Evaluation

Painful Intercourse

Sexual Dysfunction

Vaginal Discharge

Yeast Infections
We also provide patients with a range of gynecological procedures and surgeries, such as hysterectomies and hysteroscopies. For more information on surgeries we perform, please contact our office.
Annual Exam
At Raleigh OB/GYN Centre, we recommend that our patients visit us yearly for their annual exam. Although the annual exam process may vary based on each patient, the annual exam is a time when the following may be assessed:
Pap Smear Screenings

Breast Examination / Cancer Screenings

Sexually Transmitted Disease Screenings

Counseling on a variety of women's health issues and topics
If you need to schedule your annual exam, or if you are a new patient seeking a gynecology practice to partner with for your care, we invite you to contact our office to schedule an appointment.
Learn More
Raleigh OB/GYN Centre is dedicated to the gynecological health of our patients. Our team of providers are knowledgeable, caring, and experienced. If you are interested in learning more about our gynecological services, we invite you to contact our office by phone during our normal business hours or by filling out our online contact form. We look forward to partnering with you!