Raleigh OB/GYN Centre is dedicated to providing our patients a full suite of gynecological services, including minimally invasive surgery. When patients chose to partner with us, we want this mutually beneficial relationship to last a lifetime. For this reason, our providers perform minimally invasive surgeries when possible instead of referring our patients elsewhere. This allows us to meet the needs of our patients while continuing to grow and foster our relationship with them.
Benefits of Minimally Invasive Gynecologic Surgery
For most patients, minimally invasive surgery is an attractive alternative to open, more invasive procedures. In the past, traditional gynecological surgeries required large incisions across the abdomen, overnight hospital stays, and greater recovery time. Today, through the use of both minimally invasive and robotic procedures, patients undergoing gynecological procedures may benefit from:
Smaller incisions

Quicker recovery time

Reduced or no hospital stay

Less pain and discomfort following surgery

Reduced risk of infection

Quicker return to normal activities
Additionally, many patients who undergo minimally invasive procedures have reported having greater satisfaction with their results as well as better surgical outcomes. Therefore, if you are considering a gynecological surgery or procedure, we invite you to speak to our team of expert providers to determine if one of our minimally invasive procedures is right for you.
Minimally Invasive Surgeries Performed at Raleigh OB/GYN Centre
Below is a list of the minimally invasive surgeries performed at Raleigh OB/GYN Centre. Please keep in mind that this list is not comprehensive. For more detailed information on services offered, please contact our office.
Diagnostic and operative hysteroscopy

Polypectomies

Myomectomies

Diagnostic and operative laparoscopy

Treatment of endometriosis and pelvic pain

Ovarian cyst removal

Fibroids removal

Minimally invasive hysterectomies

Robotic-assisted myomectomies

Robotic-assisted hysterectomies

Sterilization procedures
Are You A Candidate for Minimally Invasive Gynecologic Surgery?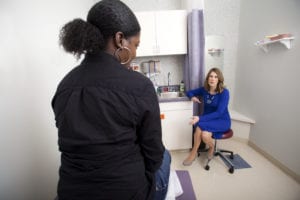 Minimally invasive procedures can be used to treat a variety of gynecological conditions and disorders, such as endometriosis, uterine polyps, ovarian cysts, and many more.  In order to determine if you are a candidate for one of the procedures listed above, please schedule an appointment with our office.
Learn More
Whether you are an existing patient or a new patient, If you are interested in learning more about minimally invasive surgery options, please contact our office to schedule an appointment with your preferred provider. Our providers are experts in gynecological surgeries and would welcome the opportunity to discuss your condition and recommend a treatment plan. We look forward to your office visit.