First and foremost, if you are an expectant mother, congratulations! At Raleigh OB/GYN Centre, we understand what an exciting time pregnancy can be. We also understand the worry and fear that can creep in during this time. For this reason, our goal at Raleigh OB/GYN Centre is to take care of our prenatal patients like our own family. When you choose to partner with us for your obstetrical care, you will be in wonderful hands every step of your journey.
Obstetric Services Offered
From preconception to delivery, we offer a full range of obstetrical care here at Raleigh OB/GYN Centre. Below is a list of obstetric services we specialize in:
Pregnancy Confirmation

Viability Ultrasound

Deliveries
At your first appointment, we will provide you with information on the process and answer any questions you may have. We also suggest you view our Frequently Asked Questions page for more detailed information.
Deliveries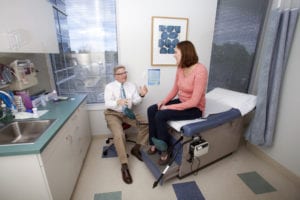 Raleigh OB/GYN Centre delivers beautiful babies at the Rex Healthcare Women's Center. Rex Hospital is known for their Women's Center, complete with labor suites and exceptional team of support staff including nurses, anesthesiologists, and more. The Women's Center offers state-of-the-art care with the TLC you deserve. Rex offers classes for expectant parents as well as hospital tours. More information can be found on their website.
OB Hospitalists are available 24/7 to provide patient care for our pregnant patients at Rex Women's Center. The hospitalists are board-certified OB/GYN physicians who have been hired by Rex Hospital to staff the new Obstetric Emergency Department (OB ED).

The providers at Raleigh OB/Gyn Centre share daytime call daily amongst our own group, so there is always someone available at the hospital for emergencies of urgent medical needs. Consistent with the national effort to improve patient safety, we also share call with Capital Area OB/GYN for after-hours, weekend, and holiday call coverage. We are fortunate to work closely with a group of doctors whom we trust to care for our patients.
A Team You Know and Trust
Pregnancy is a truly beautiful time. In order to feel comfortable during this journey, it is important to have a team of doctors you know and trust. Our team of 5 providers have been delivering babies for decades, and we are proud to be delivering a third generation of babies for some of our families.
During your prenatal care, you will get to know each of our providers. Because babies will come when they want to come, it is difficult to determine ahead of time who will deliver your baby. For this reason, we want you to be comfortable with our entire team prior to delivery.
Learn More
At Raleigh OB/GYN Centre, we are dedicated to our expectant mothers and respect their birth plans. Furthermore, we look forward to sharing this journey with you. For more information on Raleigh OB/GYN Centre's obstetric care, or to schedule an appointment with our office, we invite you to contact us today.